Comprehensive Freight Shipping Services in Boston
Full Range of Logistics Services
Craters & Freighters is your comprehensive Boston shipping company. We will ship your valuable items from any point of origin to any destination–worldwide. When you use any of our extensive U.S. domestic shipping or international shipping services, you have the freedom to prioritize your other important tasks, confidently knowing that we are ensuring your freight shipping project is managed precisely and efficiently.
We know that you have many freight shipping options to choose from, let our Boston shipping company provide you with a reliable, safe, and efficient packing and shipping process in just three clear steps:
Step 1: Reach out to us so we can learn about your packing and shipping goals and needs.
Step 2: We will quickly put together a strategic freight shipping plan for your specific shipment and provide you with a quote.
Step 3: When all parties agree to the terms, our Boston team of freight specialists start your shipping and crating process.
Shipping Service Options
What is the best way to ship from Boston and get your items where they need to go safely and efficiently? We're a team of experienced shipping professionals who will figure that out. We're happy to work closely with you to find the ideal solution to your shipping needs out of the many options we have available. That includes how your shipment is crated, packaged, supported, and transported, as well as the timing of your pickup and delivery.
We treat all of our engagements as if they are the only engagement, giving personal attention and dedication to each. In our decades of experience, this is the most reliable way to ensure your valuables make their journey safely, securely, and cost-effectively.
Should any issues arise, we will address them promptly and fully to make sure your shipment stays on track from its origin to its destination.
And if any issues arise, we address them promptly and fully to make sure your shipment stays on track from start to finish.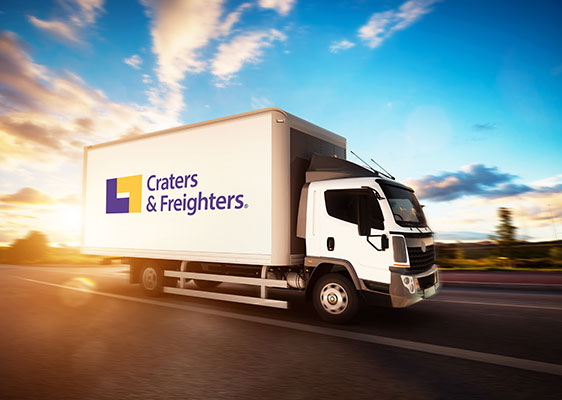 Why Ship With Us?
We are your premier shipping company in Boston, providing an array of packaging, custom crating, and shipping services. Backed by years of experience, insights, and education our reputation for quality workmanship and customer service goes unrivaled. 
We are a team of creators and engineers who will expertly manage any kind of shipping and crating project, no matter the size or demands. If you need a Boston shipping team that can fully support the secure transport of your oversized, valuable, heavy, sensitive, hazardous, or sentimental items, look no further than Craters & Freighters Boston.
Moving your home or office across the street or across the sea? No problem. We do that too. Our customers vary as our services do and our team will give you a quality shipping experience, offering ideal customer support and logistics that will give you the peace of mind you're hoping for. 
Craters & Freighters is respected globally for our persistence and dedication, supporting every kind of commercial, residential, domestic, or international freight shipping service you need, as well as for our exceptional crating and packing services.
We Ship Anything & Everything
Oversized, bulky, awkward, or fragile items will not deter us. We've packaged and shipped almost anything you can imagine. In fact, we look forward to the kinds of challenges that other providers walk away from. If you're wondering if our Boston freight shipping company is right for you, the answer is a definite yes.  Call us at 508-894-0123 to learn more about our full array of shipping services.
Craters & Freighters Boston is well-aware that your unique custom crating, packaging, and freight shipping project needs its own unique plan of action and individualized attention. We proudly provide sharp consideration, a keen eye and great intent into every job we take on, especially yours. 
We are readily prepared for your shipping project with our extensive line of services carried out by our professional, courteous, and thoughtful team. We promise to go above and beyond for you and your valuables, guaranteeing that our custom-made wooden crates and the inner supports designed specifically for your items will get your belongings wherever they need to go with perfect protection for a safe, secure arrival. 
Let us prove that we are your ultimate Boston freight shipping company for any of your shipping needs, including domestic shipping, international shipping, air freight or ocean freight shipping, cargo shipping, white-glove delivery, residential pick-up, custom crating, or any other crating, packaging or shipping service you're looking for.   
Looking for more excellent reasons to let us take care of your packing and shipping project, find out more about us, read some of our reviews left by our discerning clientele, and learn about our sustainability efforts and projects.
When looking for a crating and freighting service in the Boston area, you have choices, we're confident saying that if you work with us, you're working with an unmatched logistics team and a team that genuinely provides the whole package, no matter the size of your packing, crating, or shipping project.  Call us today and let's get started. 
Get a fast, free, no-obligation cost estimate from Craters & Freighters Boston.
Provide some information on your needs and we'll get back to you right away with a figure you can use in your planning.